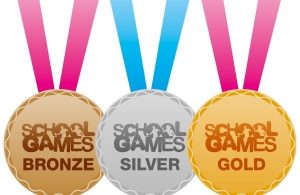 The Sainsbury's School Games Mark is a Government led awards scheme launched in 2012 to reward schools for their commitment to the development of competition across their school and into the community. Schools in England are able to assess themselves across bronze, silver and gold levels of the Mark.
All registered schools are able to apply for the Mark. Further information is available via the school dashboard, the customised content portal for all schools logged in to the website.
 Why should our school apply?
OfSTED can use the Mark award as part of their inspection framework
You can use it as a development tool to aid the PE teacher or Headteacher as your school
You can proudly display your certificate, pennant and plaque (Gold level only) at your school
You can add the logo to letterheads and email signatures to show your outstanding commitment to school sport.
On the dashboard, you will be able to download the supporting documents which guide you through the application form.
Not yet registered? Registration takes just a few minutes and all schools can access a range of competition formats that help schools when organising competitive opportunities to students through the Sainsbury's School Games.
By joining the other 20,000 schools who have already registered for the Sainsbury's School Games your school can access exclusive content; take part in the exciting Reward & Recognition Scheme; publicise sporting events at your school; learn how to use the Sainsbury's School Games across the curriculum as well as much more.
Latest Tweets
TWITTER FEED WILL GO HERE